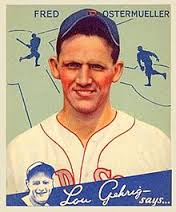 We visited with an 86-year-old friend this morning.
When we mentioned visiting Quincy, Illinois, she lit up. "I attended the Quincy Beauty Academy years ago!"
She told about rooming with the family of Fred Ostermueller. "He played for the Pirates!"
His career stretched from 1934-48, with more than 100 major league wins. Born in Quincy, Fred died there in 1957. My friend's story checks out.
Decades after his death, Ostermueller made headlines (unwanted ones) when the movie 42 was released. His offspring went national claiming that dad was misrepresented in the movie, and that he was nothing like that racist character who beaned Jackie in the head. In reality, the movie had several errors. Robinson was hit in the wrist. Bruce Markusen did lots of valiant journalistic digging, trying to find any surviving facts beneath the lore. 
So, what does this story have to do with collecting autographs or baseball research?
1. Friends, even relatives, won't be able to help you if they don't know what your goals are. "Do you know of any current or former major league baseball players?" Then, tell them why you want to know.
2. Success is out there, maybe closer than you ever imagined.