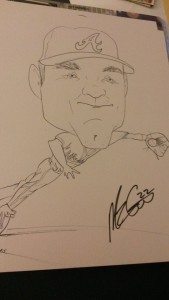 Three cheers for Ariana and Brian Devine!
She is the gifted artist. He is the wise husband who saw baseball-related possibilities.
See for yourself on their new Facebook page.
Sure, getting cards, photos and balls signed is standard. Why not?
Well, it's a matter of standing out. Of giving and getting.
Infielder Marcus Giles showed the difference that special effort made. He told Brian he wanted a picture of himself with the artwork before autographing it. I think most athletes would want to autograph such a unique collectible first.
But I'm not an artist!
Anyone can make an effort. Some DIY ideas:
1. A box score of a debut or other milestone. 
2. A headline. Write it yourself, then go font crazy. 
3. A quote. Everyone has a sentence or two immortalized on the Internet. Why offer a boring, blank index card?
4. Commission Ariana to depict your favorite player.
Score did it once. Such artwork could be coming soon to a baseball card set near you!