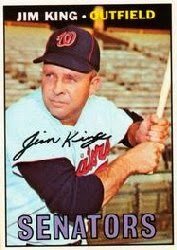 One autograph. Not a word more.
I know that I'll never hear from 100 percent of the former players I contact with questions. However, I'm never sure when I get my letter returned with a signature.
Jim King (1955-67) did that. In 2011, he responded in less than two weeks.
I wasn't alone. There were 192 successes in 203 attempts recorded on www.sportscollectors.net, the last coming in May, 2014.
King's
February obituary
from his family said little about his 18 years of pro baseball. I guessed that his survivors were just as proud of his 24 years of working for two telephone companies.
Additionally, I smiled at seeing the cap-wearing picture of King in the obit. His cap sported no MLB team logo.
From what I read, I'm guessing the accomplished major leaguer was a soft-spoken man. The "afternoon coffee drinkers" who met at a McDonald's were listed as his honorary pallbearers.
When a retiree has little (or nothing) to say about his baseball career, don't assume the worst. I'm betting many of his fellow Elkins residents never dreamed of asking King for an autograph. He may have working too hard trying to be just another coffee drinker to take the time to reflect on such a stellar career.