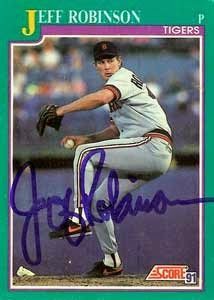 Keep www.baseball-almanac.com
bookmarked. They have an awesome
collection of authentic autographs.
I was touched to see this obituary of pitcher Jeff Robinson, deceased at age 52.
The comments posted for this former Tigers pitcher included his grieving wife. She was editing the obit. Her added comments show another side to the departed moundsman.
Some collectors might have experienced Mrs. Robinson's kindness years earlier.
Many who got confused, sending cards of pitcher Jeffrey D. Robinson might get a polite, hand-written note explaining the mix-up.
She was the perfect teammate.
The obit notes that Robinson has twin sons playing baseball on the community college level. I bet she'd help them with their fan mail, too. Let's hope they get the chance.