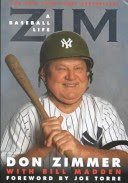 A smoking gun
regarding autographs?
Don Zimmer's death at age 83 may give new life to some lingering hobby doubts.
In his book ZIM, Zimmer told about how he discovered his wife had ghost-written letters in reply to celebrities. He noted that she signed his name convincingly well. In a later book, he trotted out the standard line about autographs being big business.
From the wise hobbyists on www.sportscollectors.net, they deciphered that the only giveaway between an autograph between Zimmer or his wife "Soot" was whether or not the "D" was closed — the case for the "Mrs." signature. Her version was slightly more tidy.
For those of you sad that you never got a chance to write to Zimmer, know that your response may have been questionable.