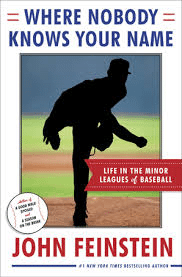 Standing O for John Feinstein.
The acclaimed sports author has created an all-star effort in Where Nobody Knows Your Name: Life in the Minor Leagues of Baseball (Doubleday, $26.95).
Without giggling about some editor's need to add "of Baseball" to the title, there's much to like about this book.
How does it feel to be a minor leaguer, either as a player, manager or even umpire?
Fans and collectors need to read this book to walk in those minor league shoes.
(I remembered a man who photographed lots of American Association players passing through Iowa in the early 1970s had pictures at an early card show. I asked why so many well-known veteran players weren't wearing their caps in the pictures.
"They don't want to be seen as minor leaguers," he explained.)
Feinstein captures this anywhere-but-here futility so well. While he looks at current minor league rosters for examples, the author found a minor league jewel in his digging.
Tommy Lasorda managed the 1970 Spokane farm team for the Dodgers. Bobby Valentine was a hotshot prospect called up in 1969. To put him in his place, Lasorda called a team meeting.
"First of all, I want you all to go and get Valentine's autograph," he said. "Because someday it'll be valuable to you when he's a star in the majors."
Feinstein's book is filled with such gems of ego versus humility. His book shines new light on those rising and falling stars in the minor league sky. Give the title a call-up.