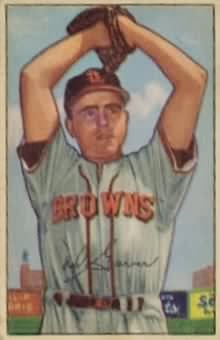 Ned still has a gorgeous
autograph!
Ned Garver is a wonder.
Now age 88 (born Christmas Day, 1925), he was a fearless pitcher whose 129 wins may have neared 200 with more contending teams.
Despite many hard-luck losses, he's remained undefeated as a hobby all-star. A recent check at www.sportscollectors.net confirmed that Ned Garver was perfect. Of 415 recorded contacts by collectors, Garver responded EVERY TIME.
I wrote to him, simply to ask about his history as a superstar signer of fan mail. He responded:
"When I was pitching well — late '40s and early '50s, I got lots of mail. Come back from road trip and there would be perhaps a thousand in my locker. The club assigned a person to deal with the mail.
I bought 3-by-5 pictures to send — no envelopes [SASE] mailed in. When I had knee surgery, I got thousands — needed help.
That's has always been my policy."
What about fan mail today? Does he ever get a donation of thanks?
"I support a few charities and my church — never asked for help. RARELY does anyone send donation — even if they request much.
I am old — it has become more difficult — but I enjoy mail.
Ned"
Coming Monday: A review of Ned's fine new book "Catch 20…too! How One pitcher won 20 games on a team that lost over 100."