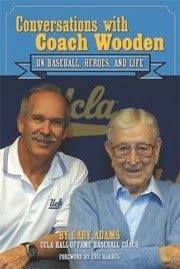 I had a hunch.
I had never written to any college basketball legends before. I heard famed coach John Wooden reciting poetry on a public TV special. That did it.
I was stunned to get a letter back containing answers to questions. He READ his mail.
When Conversations with Coach Wooden: On Baseball, Heroes, and Life by former UCLA baseball coach Gary Adams appeared, I was smug.
I was sure Coach Wooden would speak the language of another sport. This proved it!
Coach Adams shared an office with the retired coach. "You know, Gary, you're coaching my favorite sport," Wooden said when the pair began sharing space in 1975. The friendship lasted until Wooden's 2010 death.
Adams recaps thoughtful conversations the pair enjoyed. He tells of a photo Wooden personalized to him: "For Coach Gary Adams, who teaches my favorite sport." Wooden considered himself a teacher first.
Adams wrote in passing of a 1976 memory: "Coach Wooden sat at 'our desk' when I walked in. He was in the middle of answering fan mail, a common sight."
The author found other autograph insights. "I used to sign autographs 'John R. Wooden.' But I don't write very fast and didn't want to take up people's time, so I eliminated the 'R'." Later, Wooden told his friend that a strict third-grade teacher, who inspected every letter of a student's penmanship, inspired his meticulous autograph.
At a 2010 barbeque, Wooden apologized to Adams after autographing his book. "My signature doesn't look like it used to, Gary." These were the words of a 99-year-old!
Coach Adams, in charge of the UCLA baseball program for 30 years, shared discussions he and Wooden enjoyed about former Bruin baseball stars. After all, 163 of Adams' players signed pro contracts. Eric Karros, Chase Utley, Eric Byrnes, Troy Glaus and speedster Dave Roberts are samples. Refreshingly, the book shares how Adams and Wooden appreciated the personalities and work ethics of each star.
Adams took his time crafting a tribute to his basketball contemporary. His narrative sparkles with old-fashioned sincerity. He writes as a learned follower of baseball, UCLA and John Wooden. The all-star attention to detail is something Wooden would savor. The $24.95 book is a worthwhile addition for fans of either sport.
I called the publisher, asking if they have books autographed by Coach Adams. They said they'd contact him for details of how book buyers could get their copies signed. For an update, write books@santamonicapress.com.