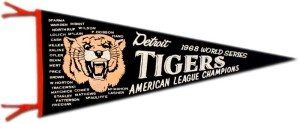 An obituary got me thinking. I hope it does the same for you.
Bill Behm never wore the Tigers uniform. However, Detroit's trainer contributed to two World Series winners, the championship teams of 1968 and 1984. How many men got to be a part of both celebrations?
Who is worthy, autograph collectors? Only players? Only those active-duty, cap-and-jersey roster members? Only the people who appear in a card set?
Think hard about your definition of collectible. Bill Behm's obituary appeared everywhere. Pages and pages of search-engine listings. His passing reminds us that the window of opportunity for unconventional baseball autographs closes quickly.
Coming Wednesday: Hitting the jackpot with one of the last St. Louis Browns!