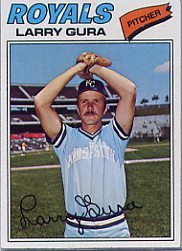 The autograph is the same.
I didn't ask about the hairy lip!

I'm still a Larry Gura fan.
I wrote about Larry in 2011, noting how he's worked side by side with wife Cindy on her family's Arizona farm. Larry asks for a modest $2 per autograph, money used to help keep the farm healthy amidst threats from skyrocketing property taxes and looming real estate developers wanting more land.
I sought an update from Cindy Gura. She mentioned that they've added bee hives to their organic gardens, eggs and riding stable. The $2 autograph deal still holds.
She signed off, noting that they just celebrated their 43rd anniversary.
Players set goals. I think 43 years of marriage is something any major leaguer would be proud of.
Summer farming and harvest season have meant that some replies have been slower than usual. Likewise, the family wants fan mail sent to their post office box, to assure that autograph requests get special attention.
To obtain a Larry Gura autograph, send $2 for each item to be signed (checks payable to Dale Creek Equestrian Village) with a SASE to:
Larry Gura
P.O. Box 94
Litchfield Park, AZ 85340
Coming Wednesday: What does collecting autographs TTM have in common with sorting laundry?