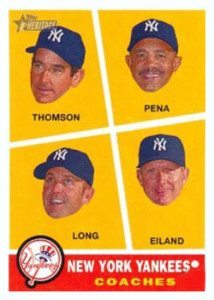 Batting coach Kevin Long gets good press. Players praise him. A hitting Houdini.
However, the media likes to look at how coaches like Long keep superstars super. I like to think about coaches keeping a guy in the lineup, or helping him avoid a trip back to the minors.
Therefore, today's post is not for you hobby stars out there. For everyone with want lists, a set project, a tight collecting focus — I salute you. Keep being you.
This is for those in hobby slumps. The traditional advice tells you to do more work. That doesn't always change the outcome.
Instead, I'm saying do LESS.
Just do it BETTER.
Huh?
Avoid hobby burnout. Do your job. Love your family. Savor your relationships.
Then, try just one letter a day. Or, even one letter a week. First, think about who you're writing to and what you're saying in the letter. Why did you choose that person?
Stop thinking about quantity. The burning desire of getting one of everything from everyone causes hobby burnout. Think about quality.
Choose wisely.