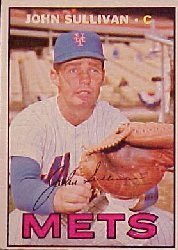 The real guy is a great
TTM signer!
Be prepared for the following eBay listing:
"Great Pretender Braves Autograph of 'John Sullivan' — RARE"
Baseball meets the Catch Me If You Can story! This will be a TV movie of the week.
Check out the Atlanta coverage of a bold actor taking on the personna of a Braves coach at a team reunion.
Will this mystery man be appearing at hobby shows? Or, were the products of his solo signing session, albeit bogus, limited editions?
Move over Morganna the Kissing Bandit. You may have company on the team of baseball pseudo-celebrities!
One last P.S. for this story? The incredible site www.sportscollectors.net reports that the REAL John Sullivan has signed 26 of the last 28 TTM requests. As the song promises, "Ain't nothin' like the real thing…"