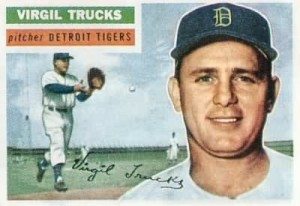 Still smiling at age 95!
It's time to slice up a cake brimming with thanks. Slices of gratitude go to collector friend Kohei Nirengi, When Baseball Was Fun newsletter publisher Bobby Hoeft, the folks at www.sportscollectors.net and YOU!
April closed out with Virgil Trucks celebrating his 95th birthday. His amazing daughter Carolyn Beckwith staged a surprise card shower. I'm grateful that she shared a report:
"I received 60 cards at my house and he received 50 plus at his house. There were 25 brought to the party so he did get in all well over 95. The mayor of our town of Chelsea also brought him a proclamation. Also talked to my granddaughter, his great granddaughter Kristen via Skype who is stationed in Germany with her husband. We all enjoyed watching him interact on skype.
He was very humbled and appreciative of all of the fan cards which we do have a picture of and will send soon. The local newspaper came out and took pictures and did a story. The cards were displayed on the table in the shape of a "V", along with a birthday cake made by my granddaughter his great granddaughter Ashley.
Thank you and the fans so much for making his 95th birthday so special. I am truly blessed to have him and look forward to celebrating his 100th birthday. I know without a doubt his fans help keep him going."