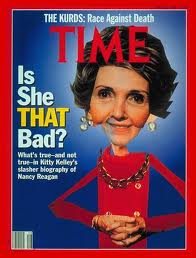 What kind of autograph
collector would Nancy have been?
Just say no.
No, not's that it.
Former First Lady Nancy Reagan brought re-gifting out of the closet when she was broadsided by the 1991 tell-all biography from Kitty Kelley. Supposedly, the author claimed Nancy tossed a teddy bear into the White House "gift closet," only to present the plush animal to the same grandson who had been without his toy since the last visit.
Stay with me, please. There's baseball content here, I promise.
I've puzzled over why once-willing signers stop signing their fan mail. Of course, the top answer remains: "Everyone's a dealer who'll sell my valuable autograph on eBay, keeping all the riches for themselves."
Could it be the fear of re-gifting might play into it, too? I'm sure current and former players still think that each autograph is like a gift given. Do they believe you'll treat the signature the same way?
Double-check the next letter you send. Is it clear WHY you want their autograph, and why they should sign for YOU?
Coming Friday: Another Cardinals pitcher departs.