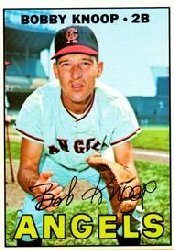 All the Topps facsimile
signatures say "Bob." Yet,
the gifted glove man
graces fans with a "Bobby"
for most TTM replies!
When Bobby Hoeft told about conducting a Baseball Chapel that included the 1970s California Angels, I knew the first team of 2012 that I'd be contacting.
When I received such pleasant reports about Nolan Ryan from former skipper Bobby Winkles, it made me think of a different crew of Angels. Not the many free agents that owner Gene Autry gambled on, but the supporting cast of the 1960s now overshadowed by California's lavish contracts. Think of the 2012 roster. No matter how successful other players are, they'll all face the initial question of "What's Albert Pujols really like?"
Here's 10 overlooked Angels I remembered. I chose to remember them again with a letter. They include:
Earl Averill Jr.
Bob Duliba
Bobby Knoop
Don Lee
Gene Leek
Dan Osinski
Rick Reichardt
George Thomas
Lee Thomas
Gordie Windhorn
Coming Friday: Amazing memories from Louis Clarizio, white Negro Leaguer!