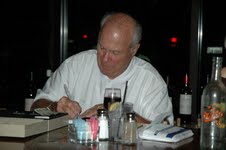 Catcher Hank Foiles autographing
his new book.
(Photo courtesy Douglas Williams)
It's good to have a player share his autograph. It's great when he shares a memory.
Douglas Williams has enjoyed both victories as a fan. He's on his way to sharing his discoveries a third time, co-authoring a book with another former player. To celebrate the release of a new Hank Foiles book, Douglas shared his own story.
Q: How big is your TTM collection? Have you had any focus (certain teams or years)?
A: About 200 autographs, mostly 3x5s of players from the 1920s to 1960s. Many Cleveland Indians. Also a few pre WWII gum cards (Goudeys, Playballs,etc.)
Q: When did your letters progress from just asking for sigs, to maybe asking questions?
A: I started with questions right away, 30 yrs ago when I wrote to Indians from the 1920 championship team and I got some nice replies.
Q: What's your procedure today in what you send? What are your typical letters like?
A: I mention something concerning the player's team, his manager or his teammate just to let him know I really have some idea who he is and I know something about his past.
Q: Please tell more about your first book. Who are some of the player friendships included?
Is the book still available?
A: Some readers have told me it is like a mini version of L. Ritter's The Glory of Their Times. I visited ex-players, many who were fringe players who only had a cup of coffee in the majors. I was was able to get some of their best memories and some insight into their careers which were then put into short chapters about each each person. In some cases I was only able to find surviving family members, but many of them became wonderful close friends…people like Mrs. Dorothy Marrow (widow of "Buck") who has passed away and also Patricia Shermer, daughter of Geo. "High Pockets" Kelly.
Some of the subject players in So Many Summer Fields were surprised that I knew who they were or that I could locate them. Often they felt like they were forgotten or that they had no real story to share. (Very humble and modest).
So Many Summer Fields is still available through Authorhouse Publishing Co. or copies signed by both Mr. Foiles can be purchased directly from me (jdougwilliams@verizon.net) $12 ea. plus $5 postage ……$17 total.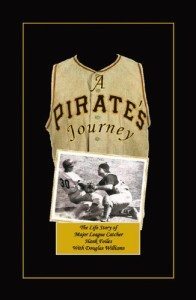 Q: Please tell about your friendship with Hank Foiles. When did it begin? How many letters have you two exchanged?
A: No letters. I contacted him by phone about 12-13 yrs ago to see if he would sign a 1955 Indians team baseball for me. He agreed and once I visited him at his office, I met his son Marc and he and I became good friends. It is interesting to note that for my 10th birthday back in 1962, my Mom and dad gave me an official Rawlings- Hank Foiles model catcher's mitt, so naturally he became one of my favorites since his name was in-stamped on my glove! Now when I think about things, it seems surreal to realize that he is one of my best friends.
Sometimes you never know where the twists and turns of life's path will lead you. It seems our relationship was one of those things that was just meant to be!
Q: What has Hank told you about his fan mail, such as number of letters weekly?
A: He receives quite a bit of mail each week, something arrives at his house just about every day. He is accommodating to everyone, but does not sign duplicate cards or photos.
Q: Does the book tell any about Hank's baseball cards? What inside info do you know
about some particular years or poses? Was he wrongly pictured in the Orioles set?
A: His cards are not mentioned in "A Pirate's Journey" however, his 1961 Topps card, signed is shown as part of his chapter in SMSF. Hank feels that Crown Oil had no right to produce the Orioles card set without cutting the players in on the deal. The oil company got no authorization or permission from any of them and while Foiles was likely right in his position, there were very few of the other ex-Orioles who joined the cause.
Q: Did you correspond with other players about Hank before writing the book? What
did they tell you?
A: No only after the book was finished. Hank put me in touch with Bob Friend, Bill Mazeroski, Dick Groat and one or two of his other old Pirate buddies and they each gave us a good plug to use on the back cover. They were all friendly and helpful.
Q: You wrote another book with Jim Coates. How has he felt about autographs?
A: Jim is a wonderful person! The reason I didn't get back to you, Tom, until now is because I spent all day with him yesterday on the golf course. He shot an 80 !! He's 79 years old!
Jim has warmed up quite a bit from what I've seen to collectors. MLB Alumni may be discouraging a lot of free signings in the mail so that they can profit through their own auctions and such. He answers requests for sigs, but when it comes to questions about his career he asks that fans get a copy of his book Always A Yankee to get answers.
That book is available thru Infinity Press, http://www.buybooksontheweb.com/ or you can get signed copies directly from me.
Q: Other advice for fans who might like to get some kind of personal response from a letter?
A: Never start you request by saying to mushy like "You were my favorite player of all-time." Many players will say right up front that they know that is a bunch of bull. A handwritten letter is much better for the old players than something typed or any type of form letter. Also, most guys have doubts when a collector says he is putting together a collection for his son or grandchild. But they usually go along with it, anyway.
Q: Your collecting goals? Future books?
A: My collecting has slowed down over the past several years since I have been so busy writing and doing book signings. Now, I'm working on a book with Dolly Konwinski who played pro baseball with the Grand Rapids Chicks. Dolly had a bit part in the movie "A League of Their Own." We're just gettin' started, but I think we just may have something good in the works.
Q: How did you decide on the cover for Hank's book?
A: The photo on the cover is from 1959 and it shows Hank tagging Maury Wills out at the plate. I spoke with Maury about that and he said laughingly, "Just for the sake of argument, you tell Hank that I still think I was safe! And thanks to you and Hank for all the negative publicity you giving me!"
I'm grateful to Doug. Likewise, applause goes to Kohei Nirengi, for suggesting this profile!
Coming Monday: Denny Walling catches the Christmas spirit?