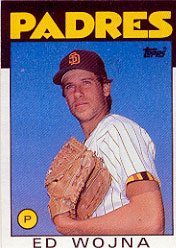 What to ask in letters?
Check cards for clues.
Here's one I missed —
what's that fashion
statement at Wojna's
left sleeve?
Hurlers. Humility. The two don't always mix.
Not here! Pitcher Ed Wojna bypassed the chance for some chest-thumping when I asked about what seems like the ultimate game of his career.
Thanks to http://www.retrosheet.org/, I found the details for his three-hit gem in front of a sparse San Diego crowd. On Sept. 11, 1986, Wojna (pronounced Wo-hee-na) limited the Braves to three singles. How did he remember his 9-1 complete-game win?
"One of those nights when everything was working."
I wanted to know the catcher he most liked working with — and why.
"Mark Parent. Pitcher-catcher timing is everything. When you are thinking of a pitch and he calls it with his first sign, that gives you all the more confidence in throwing it."
Wojna offered one more fascinating reflection:
"Tom,
I can appreciate your interest in baseball. No matter how long your career went, it's all the same to the individual. I was just as nervous for my first Little League game as the first game in the majors. Nerves are nerves, whether you're 10 or 24 years old."
Wojna concluded his letter with thoughts about his faith as a Jehovah's Witness, thanking me for my time.
I thank all the former players, those willing to look back as they look ahead. As Wojna wrote…
"There will always be more to learn. Isn't that what keeps life exciting?"
Coming Wednesday: Tom's "10 Most Wanted" — Milwaukee Brewers edition!