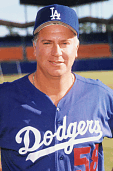 Once, Mark Cresse
made and sold lamps
made out of Dodger
broken bats!
I decided to go off the field in search of 10 more eyewitnesses to baseball history.
Topping the list is Christian Lopez, the fan who caught (and gave back) Derek Jeter's 3,000th hit. I'm hoping I'm not too late. I see that Steiner Sports has offered signed LOPEZ baseballs. Does this mean that answering fan mail is taboo?
Two other Yankee-related names intrigue me, retiring trainer Gene Monahan and the first Christian Lopez, best known as Sal Durante. Durante caught the 61st home run ball hit by Roger Maris.
Other non-player notables on my list include:
Lon Simmons, Frick Award-winning announcer
Mark Cresse, long-time Dodgers bullpen coach
Terry "Talkin' Baseball" Cashman
Oscar Leon, Artist
Lou Cella, Sculptor
(collaborators on Frank Thomas statue — loved their This Week in Baseball appearance!)
Gary Pressey, Cubs organist
Nancy Bea Hefley, Dodgers organist
Stay tuned. Meanwhile, check out this impressive feature about MLB team organists!