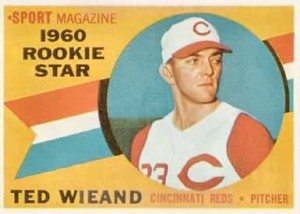 He never forgot Topps.
Reds pitcher Ted Wieand may have mixed emotions about his 1960 Topps card.
Back in the 1960s, Topps had a prize redemption catalog for players to use. Much like S&H Green Stamps, Topps offered merchandise as payment for appearance in a set.
Wieand remembered:

"I got a living room suite. I was grateful for that honor."
His 1960 card designated him as a "Sport Magazine Rookie Star." Surely, honorees got a ceremony, right? A trophy? Or, a gold watch?

"No. Nothing."
Even S&H Green Stamps beat nothing.
Coming Thursday: Address king Harvey Mieselman prepares for 2012 directory.