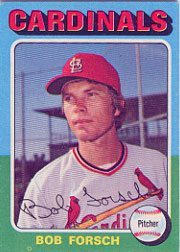 I loved his off-beat autograph.
Will Forsch love this off-beat
story of his conversion
to pitcher?
He was the most interesting baker I had ever met.
That was John, wearing an apron and a St. Louis Cardinals cap.
My wife and I were on assignment, writing about the revival of the flood-ravaged Czech Village in Cedar Rapids, Iowa. We asked John about baking at the Bohemian Cafe. He liked his work. He took pride in his craft.
However, he became a new person when I asked if he remembered the Cedar Rapids Cardinals minor league team. Yes! John was a teen who got paid a bounty for each foul ball he returned.
His eternal thrill that season came through his bravery. No player was anxious to devote extra time to helping a converted third baseman become a hurler. John strapped on the "tools of ignorance," getting to be one of the first ever to see the transformation of hard-throwing, control-iffy Bob Forsch into a gifted pitcher.
John was a U.S. Army vet. Cedar Rapids diners adored his baked creations. However, his real pride may have been in giving a helping hand to the future author of 168 wins and two no-hitters in a 16-year career in the majors.
I've hesitated to write to Bob Forsch. I feared he might not remember.
That shouldn't be what matters.
What matters most is that Bob Forsch knows that a great baker was proud to help. John stood with him on the mound for all those wins.
I should have gotten John's autograph…
Coming Wednesday: Ricky Jordan remembers.