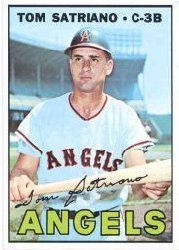 Did Topps recycle this
same photo in 1969?
Tom Satriano may have been among baseball's luckiest catchers.
I asked him what was the worst injury he suffered behind the plate.
"In Hawaii in 1971 — dislocated pinky finger."
I asked about daughter Gina Satriano, who played for the Colorado Silver Bullets baseball team once managed by Hall of Famer Phil Niekro. When my wife wrote Belles of the Ballpark, her book about the All American Girls Professional Baseball League, we believed that some of these women could have been major leaguers. Do the Satrianos believe, too, that women could play in the majors someday?
"We both agree with you."
Coming Tuesday: noted baseball bookseller Bobby Plapinger considers the value of autographed copies of Bill White's Uppity.