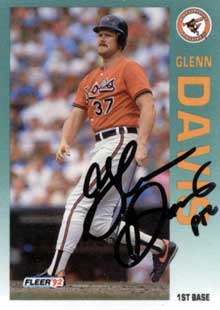 Baseball-Almanac.com
posts an AWESOME
collection of in-person
autographs. Note that
Davis added the
"Praise the Lord" P.S.
In case you missed these inspiring comments by Tim (regarding elusive signer Glenn Davis), here's a recap:
"I recently received Glenn Davis through the mail. I sent my request to his home address and included a small donation for The Carpenter's Way, a home for children that Mr. Davis established. He seemed to appreciate the donation since he signed the cards that I sent and included an extra card signed.

Sometimes it takes a little research and creativity to get some players to sign."
and…
"Thanks for the feedback, Tom. As you have pointed out many times, it is important to personalize the letters that you write. In this case, I read about Mr. Davis and The Carpenter's Way. In the letter, I referenced the important role that The Carpenter's Way is impacting youth in his community and told him that I wanted to help with the mission of The Carpenter's Way with a small donation."
I wanted to share them again, because I think I understand the lesson they provide. I thank Tim for making a huge point that everyone in the hobby needs to remember.
No, I don't think that everyone sending a donation to The Carpenter's Way will guarantee that Davis signs forever. He may. Or, he may start asking for higher and higher donations. Personal interaction can devolve into a mere business transaction.
Tim gave a gift. That's why he got one in return. He didn't HAVE to make a donation. He WANTED to.
Money isn't the ultimate answer. Tim created a personal appeal to Davis. He did more than quote career HR numbers. Tim's letter addressed Davis as a player and person. That's the goal I set for every letter I send.
"Have to" versus "Wanted to." That's it!
Tomorrow: Learn the math of baseball, with pitcher-turned-teacher Dave Fleming