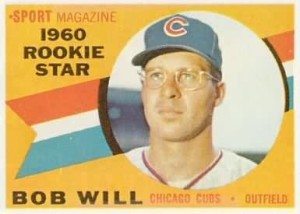 Bob Will, Still Looking Up!
Today's news comes courtesy of Kyle Smego, the senior voice behind the fine father and son website and blog known as "The Autograph Addict." In 2010, I discovered their epic quest to complete a 1962 Topps set autographed.
Kyle shared:
"I wrote to former Cubs outfielder Bob Will, back in December. I received a handwritten note back that he asks for a $10 donation to a children's leukemia hospital. In return, he would send an signed photo and answer any questions that I had. It was a nice note….not the standard price list that some send. So I decided to send a $20 donation.
A couple of weeks later, I received a five page response from Mr. Will. He spoke about his playing days, Freddie Lindstrom (who was his manager in college), and what he's doing today. It turns out that he still hangs out with Billy Williams, Rich Nye, Billy Pierce, and other former Chicago athletes. Can you imagine what goes on when those guys get together?
At the end of the letter he said that he is in the process of writing a book about his time in baseball, but….he is currently battling 4th stage colon cancer that has spread to his blood system. lungs, and liver.
I'm not sure if you ever send "donations", but I think this is one case where you should consider it. It's for a good cause and you'll get a great story in return.
You can read my letter here:
http://www.autographaddict.com/bbwl.jpg (click on it to enlarge)"
Kyle's news is quite moving. As Will battles cancer, his ability to do more than sign autographs may be limited. Likewise, his hope to tell his baseball life story in book form is a beat-the-clock challenge.
Too many moments in baseball history are being lost to the ravages of time. Every letter Will has sent helps preserve just one more seed of a story. For the hobby, Will hasn't made "what about me?" demands for his autograph. He's donating the "fee" to children in need, while trying to give added value to every collector who participates.
As Bob Will battles for his future, tell him that he mattered. Let him know he's not forgotten. Send him a simple note. Give him YOUR autograph.
Bob Will, 3417 S. Country Club Road Woodstock, IL 60098
Tomorrow: Decoding pitcher Carl Bouldin's extra message.