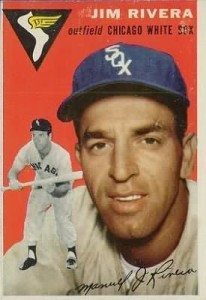 Obviously, this signature is
from a contract. Imagine
finding a "Manuel Rivera"
autograph today!
Imagine…"Jungle Pete" Rose?
After all, he used head-first slides.
However, Jim Rivera did it years before. The Tarzan-like abandon he ran the bases with, combined by his daring acrobatic catches, earned him the nickname from Chicago sportswriters.
But a label isn't a nickname if no one repeats it. Rivera recalled:
"The nickname 'Jungle Jim' stuck on the next day when the fans from Chicago heard it."
Throughout the 1950s, Rivera remained an American League daredevil, leading the league in triples (1953) and streaking around the basepaths.
The speed and daring made him a defensive darling in Chicago. Although the team fell to the Dodgers in a hard-fought 1959 World Series, Rivera saved Game 5 with an unimaginable catch after entering mid-inniing as a defensive replacement.
Here's how losing Dodger pitcher Sandy Koufax remembered Rivera:
I asked Rivera: "Your best catch ever?" He answered…
"Yes, the catch I made in the World Series was my best and we won the game, 1-0."
As if I had any doubt, he concluded:

"Had a great 10 years in the Big Leagues."