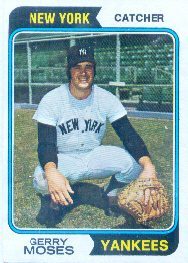 How Does He Spell
His First Name?
Jerry Moses served nearly a decade in the majors. Time stands still for Boston fans, who'll forever remember him as the baby-faced catcher made of steel.
"I only went to bat four times in 1965. The older guys were great to me. Some of those guys are still my friends."
Moses saw limitless potential in one teammate: Tony Conigliaro.
"Tony was a great friend. He was a confident person and player. He would have been a Hall of Famer."
I thought Moses would remember a highlight of his Fenway days as the homer from April 20, 1969 off Steve Hargan.
"Grand slams are unique. It was great."
Did he watch it clear?
"Yes."
I dared to ask: if that wasn't your favorite homer ever, what was?
"I hit a home run as my first hit. I was 18 years old."
That wasn't the only surprise in the letter from Moses.
"I should have had a better career. I worked hard, played hard and did was I needed to do. I listened too much to some coaches who tried to change my way of hitting.


I never had a problem hitting and was a home run hitter. By using the coach, I became a line drive hitter.


I hope to write a small book called 'How to Screw Up a Great Career.'"
Moses reveals much more in this fine Red Sox blog feature interview (at least the Boston parts), "At Home At Fenway"!
Moses allowed one mystery to remain. When I asked him to settle the baseball history debate of whether his first name should be GERRY or JERRY, he passed. I'm sure Topps is still puzzled. Initially, the company pulled his full name "Gerald" off his appearance contract, using it as a facsimile autograph. However, the catcher has always signed with a "J."