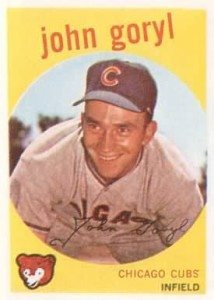 Identical Autograph,
50 Years Later!
"I know you are, but what am I?"
— Pee-wee Herman
The wise Mr. Herman was too late to warn utilityman-turned-manager Johnny Goryl. Goryl's blanket ribbing of others boomeranged into his own nickname.
"My nickname 'Mullion' came about because I used it so often to call my teammates and friends that it stuck to me as a nickname.

I like the nickname, although the intent of the word is to not flatter you as a person. Its meaning, I am told, is 'not very handsome.'"
Hearing from Johnny Goryl was a delight. One collector received a RTS for Goryl mistakenly marked DECEASED. An August 3 blog post detailed the finding. Actually, a same-named person who died may have been the cause of the confusion. Thankfully, the response from Goryl (who moved this year) proved that he wasn't playing possum to avoid autograph collectors.
Tomorrow: More from Johnny G, including his memories of Billy Martin.