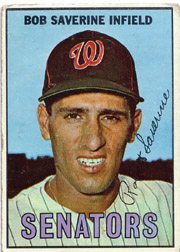 The man known as "Rabbit"
kept same smooth sig.
Every letter is legible!
Leading the 1969 New York "Miracle" Mets to a World Series crown wasn't the first time manager Gil Hodges made dreams come true. With the Senators, Bob Saverine was one of those players he believed in.
What did Saverine remember about the man who gave him the chance to post career numbers?
"Gil gave me many opportunities to play, something that my other managers did not do. He was an intense person, wanting only to win games. He was a fine gentleman and a great manager. He had a great mind for baseball and its percentages."