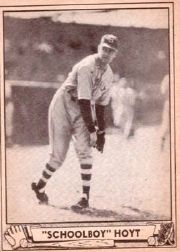 I think the Hall of Famer never stopped being grateful. Cincinnati Reds fans loved radio broadcasts. A rain delay turned into a celebration, with Hoyt sharing memories of his days as a pitcher.
I'm grateful for Kyle and Tyler Smego, the father-son team behind The Autograph Addict. They show that baseball, and autograph collecting, is best when shared. I first mentioned the pair in an April post.
Kyle uncovered a letter from Hoyt, and a note from Claude Berry, catcher to the stars at the turn of the century. Hoyt died in 1984, Berry in 1974.
These artifacts may be slow to appear. I've feared that some collectors never saved notes and letters from former players. One-of-a-kind items aren't found in set checklists or price guides. How could they be displayed?
My applause to Kyle and Tyler for seeing the historic value in such correspondence. Who couldn't feel what Hoyt felt when he learned of his Hall of Fame induction? In just a few words, Hoyt set the scene well.
Happy Thanksgiving!