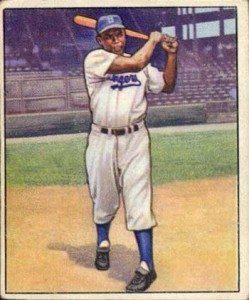 Are you making baseball history?
Before you run to your autograph collection to judge the quality of signatures, consider what you've been writing to those signers. I believe YOUR letters are historic, too.
On an Internet search, I stumbled across a record of the Jackie Robinson papers archived at the Library of Congress. Robinson's letters to, and from, baseball notables, are part of his lifetime collection of papers. However, one sentence jumped out from the LOC website:
"Fan mail from home and abroad offered Robinson support and encouragement in his efforts both on and off the field, while often providing a glimpse into the writer's own struggle with racial intolerance."
You might be collecting autographs. The baseball legend might be collecting YOUR letter. Years from now, historians might look at what you wrote to a famous baseball name, hoping to get idea of that star's popularity and impact on society.
Think twice about what you say. Your letter may have a longer life than you do!