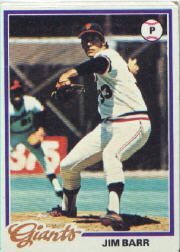 San Francisco pitcher Jim Barr knew Candlestick Park. Did he know AND love the ballpark? I quizzed him on three subjects. He replied:
"CANDLESTICK — yes, it was COLD and windy. My thought process was: this is my job, what I am expected to do, and it was the MAJOR LEAGUES. Yeah, it was nice to pitch on the road, in better weather and a lot more fans. But pitching at home, well, it was YOUR HOME PARK."
Barr registered three near no-no's in his career, a trio of two-hitters. Regrets?
"Honestly, I never thought of a NO-HITTER. All the games were reasonably close, so winning was the #1 priority."

Barr was the pitcher who got away, being drafted six times before turning pro. I asked him if it was more than money that caused him to turn away major league chances.
"I signed with the Giants because I was graduating from college. I didn't sign earlier because I had a very good college degree on the line and all the other offers couldn't make up the difference of my college degree."
If Barr's praise of education sounds like he'd be a good college coach, the former Giant must agree. I found him profiled on the Sacramento State website as the school's baseball coach.