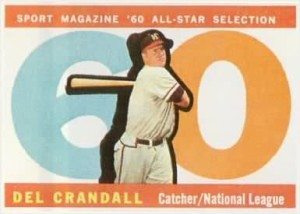 Ask, ask, ask!
When I wrote the book Great Catchers (Metrobooks, 1997), I called out my TTM collecting skills to do some fast research. Bill Valentine, a colorful umpire of the 1960s, was the first to respond. Minor league baseball fans know Valentine as the front office force behind the Arkansas Travelers for 40 years.
Valentine sent an eye-popping response, giving his frank assessment of the men he worked behind. He wrote:
"I guess everyone has told you that Del Crandall was one of the top defensive catchers in baseball when he played for Milwaukee. Looking at his batting average, you can see he must have been, or he would not have been in a a lot of lineups. Sherm Lollar was such as a catcher for the White Sox. Both men kept the baseball in front of their body, and had quick release of the ball when runners attempted to steal.

"I liked Bob Rodgers of the California Angels. He was one of the team leaders, and he took command behind home plate. It was his game, and the pitchers threw to him. He did not allow his pitchers to argue with umpires, and would tell them that was his department. 'Just throw the ball.'

"[On the other hand] Earl Battey of the Minnesota Twins was very quiet, but a leader in his actions."
Tomorrow: Valentine reflects on some of the oddest receivers he encountered.