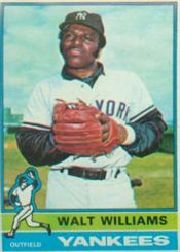 "Call me anything: except later to supper!"
That old one-liner made me think. If no one notices you in the majors, you won't get a nickname. Even a questionable title means you're getting recognized.
So, how did Walt Williams feel today about the nickname that stemmed from a critique of his physique from White Sox manager Paul Richards? Williams responded:
"At first I didn't like it, but as the years pass, it was okay."

Williams racked up five hits in a 1970 win against Boston, a 22-13 slugfest. How did that feel?
"It always feels good when you get hits in a win."

Surveying Williams' 1968 Topps card (as seen AUTOGRAPHED on the nifty http://www.baseball-almanac.com/ link above), I saw he made Topps' All-Rookie Team. Was this a real award, or just a doodad slapped on your card? He confirmed that Topps gave a trophy, like the one in the photo. (No, I didn't ask if the trophy was bigger than the one on the card…)
Lastly, I was pleased to praise Williams on his post-baseball career, working with youth back in his Texas hometown. His reply inspired me:
"I always wanted to give something back, for being blessed with all the things. Baseball was a part of things I had and things that baseball helped."