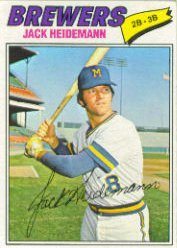 While many teens are working on their first car (or first beer), Jack Heidemann set his sights higher. The 19-year-old went from first-round draft pick in 1967 to major leaguer at age 19. By age 20, he owned Cleveland's starting shortstop position.
I was intrigued with his youth. Legal drinking ages. Older teammates who might see him more as a little brother than a peer. Would teammates include him in post-game socializing? Heidemann responded:
"My roomie was Eddie Leon, All-American shortstop out of Arizona. Cleveland put him at second base for me to become their shortstop.

Being the youngest on the team, I just hung out…sometimes I got to go…sometimes I was by myself."
Part of Heidemann's stellar 1970 season included a 5-for-5 game. What did he recall?
"5-5 for five-five — well, I went 0-4 2nd game of doubleheader. Yuh!!!"
Looking at his career stats, I pointed out that his nine career homers were nine more than I hit in Little League. Did he savor details on one or two memorable blasts?
"Blue Moon Odom…Knuckleballer Jack Samford. I probably would have to look up to see when/where I hit 'em."
Thanks to the baseball braintrust at http://www.retrosheet.org/, I did. In order, the nine pitchers Heidemann blasted homers against included:
John Cumberland; Chuck Dobson; Dick Bosman; John "Blue Moon" Odom; Eddie Fisher, Jim Hannan, Ken Frailing, Rudy May; Bill Lee
By the way, Heidemann's autograph still looks like the facsimile on his Topps cards!