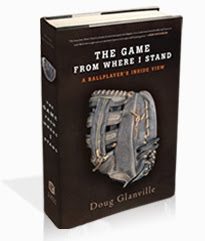 Doug Glanville is the must-read author of the 2010 baseball season.
I'm stunned by The Game from Where I Stand: A Ballplayer's Inside View
Glanville isn't your typical former player-turned-talking head. His book cover shows only his glove. There's no 16-page photo section (the pictorial I'd dub 'Me, Myself and I') in the book's middle. The title is a takeoff on his years (1996-2004) in center field for the Cubs, Phillies and Rangers. He's a respectful commentator on life as a major leaguer, on and off the field. His book even includes an index! The two most-mentioned players, notes the index, are Shawon Dunston and Randy Johnson.
Funny and insightful, Glanville charts new territory ignored by other players who slap their names on book covers. This man's a fan, someone who loves the game. Glanville owns every word. He isn't a cliché-ridden, phone-it-in, let-the-ghostwriter excuse for an author. Readers will feel like they're teammates. Even family. One Glanville revelation includes a bombshell for pre-game autograph collectors:
"Maybe your willingness to sign had something to do with your signature. If you hadn't made the adjustment as a rookie to cut down on the letters in your name, you weren't learning. My name is fairly long, but after signing thousands of cards upon being drafted, I cut out more than half of the letters. It became more of a symbol than an actual signature."

Glanville wrote me when I asked a question about the book:
"I have been truly inspired by the positive feedback and I am working hard to get out there what I think is a relevant work on the human side of the game. It is organic, but it has been gaining. So far, I have been able to keep up with signing any mail or books that come my way."
That's right. Baseball's academic ambassador is inviting readers who want their books autographed to send them to him. Anyone wanting their copy of The Game From Where I Stand autographed can send it with appropriate return postage to:
Doug Glanville, 1658 N. Milwaukee Ave Chicago IL 60647.
Glanville is a faithful Twitter correspondent for fellow baseball devotees. I love his website, as he shares his New York Times columns and other writings. If you want to feel good again about being a fan, read Doug Glanville.