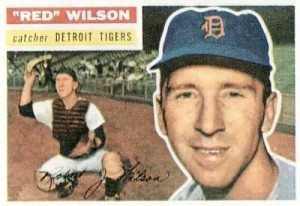 Bob "Red" Wilson spent the 1950s marveling at his job and his co-workers. Today, he's still making sense of it all.
For starters, he witnessed the arrival of a teen teammate named Al Kaline, who jumped straight from high school to the majors. When did he get a hunch about future Hall of Fame membership for the Tigers phenom?
Wilson replied:
"He could run, throw and hit and was only 18!"
Wilson's biggest amazement came over his success versus the New York Yankees. For those 21 matchups, Wilson batted a sizzling .354. He served as "designated" catcher for Frank Lary. Wilson saw his batterymate earn a 16-3 record against the noted rivals, in addition to the nickname "Yankee Killer."
The former catcher summed up:
"Frank Lary and I had no magic. Things just seemed to happen. We both were competitive and enjoyed playing together.

It was a thrill to play baseball in the American League. While the challenge to do well was always a discomfort, you soon realize that condition is present in any job you take pride in succeeding at!"
To learn more about Wilson's career, check out the masterful bio by Jim Sargent at the SABR BioProject website.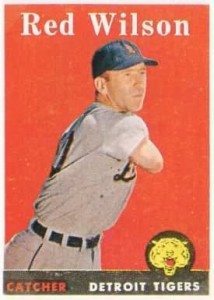 The one unsolved mystery about Wilson's 1958 season? Where are his arms? Was he baseball's first contortionist catcher?