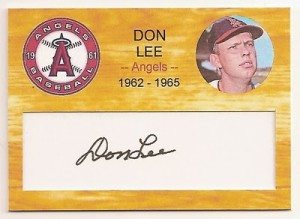 Nolan
Cowboy
Tom
Okay. Angels fans might not recognize that many personalities on a first-name basis. However, the blogmaster of The Angels, In Order is a role model for all autograph collectors.
This blog showcases autograph collecting done right.
Decide what NOT to collect.
That's it. Some hobbyists sweat over setting goals. They try to get as many autographs as possible from EVERYONE. Often, hobby burnout is the result. Abandoned blogs and forgotten collections mark such a demise.
"Tom" makes it personal. Choose a team, era or card set and stick to it. Achieve one victory at a time.
He shows his collecting is meaningful by sending customized index cards. I've never seen the letter he mails, but I'm betting it's not a boring form letter. Any retiree would be touched by his devotion to the Angels. I've seen great memories jotted down by Julio Navarro and Don Lee. I know Tom will be getting more of these priceless bonuses.
Sure, if a busload of lost Hall of Famers knock on your door asking for directions, get their autographs. Just try to keep a focus in the hobby. Better results and more fun are awaiting.