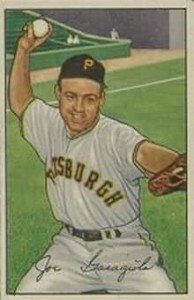 I'll never forget my first conversation with Joe Garagiola.
As co-editor of Sports Collectors Digest, I ran a letter to the editor. A 1940s Phillie was suffering from Alzheimer's. His daughter wrote to say that her dad loved greeting cards, carrying them in his pocket until they disintegrated. Even though her father couldn't sign autographs, she hoped readers would write to him.
Joe subscribed! He vowed to get the Baseball Assistance Team to help. When Joe started requesting donations to BAT for autographs, his move made sense. I believed he was sincere. He had told me many instances of how BAT served former players in need. His current donation policy for autographs, along with a new cause, is detailed here on this helpful website outlining signatures for charity.
In coming installments, I hope to get more feedback from current and former players who support charity through autographing. Questions I'll be asking:
1. What is the charity?
2. Why do they support this cause?
3. How much have they raised through autograph signing?
I don't want to be a cynical grump, but I have harbored small doubts about the vague "I give it to charity" comments. WHAT charity? While I feel good about helping a good cause, I don't like feeling that the signer will never see my letter. Instances in which retirees send thank-you notes for donations show me these men are active supporters of the charities, giving me an extra insight into their personality.
Readers: what questions do you have about the charities that autograph signers support with your donations?