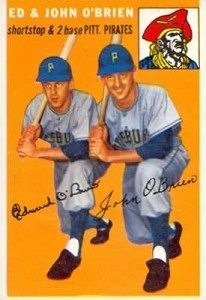 A position player pitching? You mean blowout game, mop-up duty?
Don't tell that to Ed O'Brien.
I confess, I wanted to ask about that famous 1954 Topps card, picturing the O'Brien twins. Forget the Olsen twins. Skip those sisters. I'd rather see Ed and John turn a double play.
However, www.Retrosheet.org amazed me again. Going to "top performances" I found results from September 14, 1957, a day in which the Cubs ate humble pie. One infielder took the mound and confounded Chicago.
Ed O'Brien replied in magnificent calligraphy-like penmanship:
"With Dick Groat at shortstop and Bill Virdon in center field, the Pirates were using me as a utility player. In all, I played seven positions. Because I had a strong arm, they decided to see if I could pitch. At Columbus AAA I had 3 or 4 pitching appearances while still playing in the field. Dan Murtaugh started me against the Cubs in Wrigley Field. I won, 3-1, complete game, throwing fastballs and hard sliders.

Both of us on the Topps 1954 card was their (the company's) idea. They sent copies to all those signed with them. Everyone received the same compensation. Nothing like today's figures."
I had asked if Topps paid both brothers an individual fee, even if they shared one card…
Lastly, I wanted to know about a fellow Washingtonian and famous Pirates fan.
"Bing Crosby came to Seattle on three occasions to talk to us (John and I) about signing with the Pirates. He was a minority owner. He would attend spring training every year and became a lifetime friend."