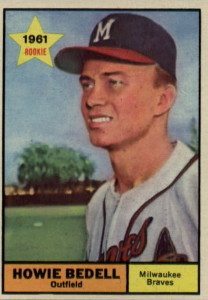 Howie Bedell made the most of his second chance in baseball.
The 1968 Phillies used the Pennsylvania native for a mere nine games. But Bedell's only RBI became a record breaker. His sacrifice fly shattered Don Drysdale's epic 58-inning streak of scoreless baseball.
Bedell's beginnings in pro ball date back to 1957. By 1961, he feasted on AAA pitchers, creating a record 43-game hitting streak in the American Association. The following year, he fought for playing time in a crowded Milwaukee Braves outfield.
Bedell toiled back in the minors for five more seasons, a Crash Davis-like, Bull Durham-type character. What kept him going?
His inspiring reply began with five powerful words:
"The love of the game."
Bedell managed in the Phillies minor league system from 1969 through 1974. Who is he proudest of among the young talents he helped shape?
"Great question. I had many major league players. However, I always believed every player was my best."
That philosophy carried Bedell through work as the Royals Coordinator of Instruction from 1981 through 1986, into service as a Mariners coach in 1988 and a stint as Cincinnati's Director of Player Development, beginning in 1990.
"The game has always meant a great deal to me — and always will. So much I could write."
Let's hope baseball history writes more about Bedell. Those memories sound like choice collectibles.
Check out Baseball Almanac's fine summation of Bedell's minor league managerial career.