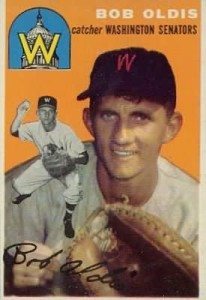 Bob Oldis is a baseball time machine.
His minor league playing career began in 1949. Oldis is one of baseball's 1950s inspirations. After losing his spot with the Washington Senators in 1955, he toiled through four more minor league seasons before reappearing as a Pittsburgh Pirate in 1960, providing the late-innings defense needed for a World Championship.
Even in later years, Oldis remained a force behind the plate. When Maury Wills stole a record 104 bases in 1962, he was thrown out just 13 times. Oldis nailed him twice — in one game!
The Iowan-born receiver parlayed his baseball knowledge into a lengthy career as a coach and scout.
In uniform for the first-year Montreal Expos in 1969, the former coach was asked how he feels about the team being transplanted to Washington, D.C.
"Only thing to do. Montreal is a hockey town," he explained.
As a scout, are there one or two signings or discoveries he's proudest of?
"Bill Gullickson. Shane Rawley."
Wearing a Phillies uniform in 1962, Oldis achieved his only career home run, a dinger off Pete Richert in Dodger Stadium.
"High fastball," he began. "White towels line up at dugout when I got back!"
When asked about a greatest career thrill, he looks to the future, not the past.
"Being in pro baseball eight decades now."
I'm grateful that this still-active scout found time in his busy season. I'm thankful, too, for having found this uplifting 2007 feature about Oldis. Great pictures!