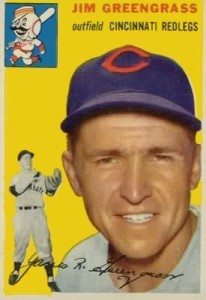 Some players couldn't dream up such a great stage name.
GREENGRASS. What a perfect name for baseball. Well, maybe "Homerun" would be a decent substitute for "Owens."
Jim Greengrass began baseball's wild career ride at age 16, signed as an amateur free agent by the Yankees. Two years in the minors. Two years in the military. An attempt to become a pitcher, scrapped after five straight losses.
Debuting with Cincinnati in September, 1952, Greengrass became a Reds regular in 1953, posting totals of 20 homers, 100 RBI and a .285 average. In 1954, Greengrass smashed a career-best 27 home runs.
However, phlebitis (painful inflammation of leg veins) short-circuited Greengrass's career. His final big-league days would come with the 1956 Phillies.
Now 82, Greengrass took time to field three questions.
"Hi, Tom,

Thanks for the kind words and hope this note finds you and your family in good health and happy.

1. No making your contracts in those days. Highest salary was $40,000. Stan Musial and Ted Williams.

2. It was my ___ number (#23) through the years and my first at Cincy, so I kept it my whole Cincy career. Phillies first baseman had it when I went to them, so I got #10.

3. I have had that (phlebitis) since then, so you can see not much known about (phlebitis). And there is no cure. It's tough but I have learned to live with pain. My blood is cloddish. Both legs. But still manage to get around some.

Many happy innings to you, Tom

— Jim"
In the last month, this is the first time I've been thrown a curve with any handwriting. Jim's tight, small cursive is tricky here. He's saying that #23 was his "basic" number or his "luckie" number. Both sound good to me.
A swell name. Someone who's been there that still says CINCY. Let's hope the 2010 season brings teams some more "green grasses." Thanks to Jim, I know I'll have many happy innings.