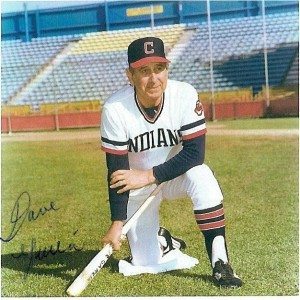 Dave Garcia is a library of baseball's untold stories.
In 2009, the New York Times honored Garcia's deep roots in baseball. I was hooked by the headline: A Baseball Elder's Feel for the Game Endures.
I knew Garcia only as the toiling manager of the California Angels (1977-78) and Cleveland Indians (1979-82). That's only one chapter in his baseball history. Garcia's career in the game dates back to 1937, when he began his playing career as a St. Louis Browns minor leaguer. The reporter noted that, aside from Garcia's three years in the Air Force, he made his living from baseball, all the way to being a part-time scout for the Cubs in 2009.
Garcia earned his shot at a big league managerial post. He owns 890 career wins as a minor league skipper.
I wrote, asking Garcia two questions. First, who were some of the players his was proudest of, ones who he helped reach the majors or achieve new levels of success? Secondly, how did he cope with the media during his managerial career?
Garcia's reply began with a list:
"* Hoyt Wilhelm — Right hand pitcher, pitched in 1948, Knoxville, TN.
* Bill White — 1st base. 1954 Sioux City. Major league career with St. Louis. Became president of National League.
* Mike Hargrove — 1st base, Cleveland, 1979-82. Manager in majors with Cleveland, Seattle.
* Orlando Cepeda, 1955 — for short time in Kokomo, Indiana.
* Andre Thornton — 1st base, Cleveland, 1979-82.

Many more…

2. I had no problem with media. Many were very fair with me.
I didn't pay attention to their criticism. I knew my players better than anyone else."
Dodgers coach Manny Mota said that Garcia helped him learn English as
a minor leaguer. He called Garcia his "white father."