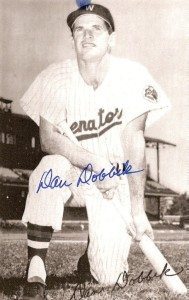 Once touted as the second coming of slugger Bob Allison, Dan Dobbek's stock rose and fell quickly.
The product of Western Michigan University, he's remembered for being a grinning member of "The Sporting News Rookie Stars of 1959" subset in that year's Topps set. Sure enough, he uncorked 23 home runs for the Chattanooga Lookouts, earning a September debut with the Washington Senators.
Before the 1960 season, manager Cookie Lavagetto told reporters, "He is a very extraordinary rookie. He is the best fielding outfielder on the club."
Dobbek managed 10 home runs in 110 games. He remembered one game especially, writing:
"In 1960 against K.C., I had 2 home runs the last time at bat in the first game of a doubleheader and another one the first time up in the second game. I got walked the next three times."
When the Senators morphed into the Minnesota Twins in 1961, Dobbek greeted Metropolitan Stadium fans with a May 19 grand slam. His third-inning grand salami before home fans became the first in Twins history.
Facing the Athletics in Kansas City, Dobbek's career faced a crossroads.
"My career ended because I ran into a concrete wall in K.C. catching a fly ball," he added without prompting.
Just four homers and a .168 average in 72 games of part-time action foreshadowed Dobbek's decline. Swapped to Cincinnati in the off-season for catcher Jerry Zimmerman, Dobbek would appear with the Reds only on baseball cards. He'd be out of baseball in two years.