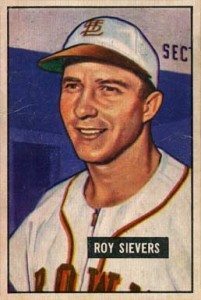 Long before spring training, the Hot Stove League of my mind
battled the Iowa winter. Instead of forecasting baseball 2010,
I pondered several possibilities of seasons past.
One "what if?" that's called to me has been the
case of Roy Sievers.
The five-time All-Star finished his career with 318 home runs and 1,147 RBI.
The 1949 American League Rookie of the Year, this St.
Louis native chose the Browns over the Cardinals.
Redbirds super-scout Walter Shannon knew how talented
Sievers was. Still, Sievers slipped away.
When he did, Sievers saw his career shaped by
owner Bill Veeck.
What did he remember about considering the Cardinals?
How did Veeck inspire him?
Sievers wrote:
"Walter Shannon was a close friend of mine — watching me play ball and he even managed our baseball team (American Legion). He came out to my house every week to get me to sign with the Cardinals. Back then, the Cardinals had a great ball club — a lot of them were just starting.

My dad and I thought it best to sign with the Browns, due to the fact I could make it to the big leagues faster. As it turned out, everything worked out alright. Playing with the Cardinals would have been great. They were a good club.

Bill Veeck was a great owner to play for. He saved my career with the things he did medical wise. Sent me to the best hospital and doctor in Baltimore, John Hopkins. Doctor wrote me up in the medical books as the best operation performed on a ballplayer. Ended up playing 17-1/2 years in the big leagues.

Bill and Mary Frances were always great people. He treated players great. He knew their values. he was a showman. People loved him. All the things he did were for the good of the game."
Since 1949, one other person has focused on "the good of the game." Whether with the Browns or the Cardinals, Roy Sievers seemed destined to be a local hero.