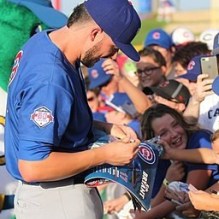 The April 8 quiz of the day on MLB.com is worth pondering. Eric Chesterton brought up a couple of interesting questions about the penmanship of today's major leaguers.
Chesterton praises MLB stars for penning nearly identical signatures every time. However, he adds, "But the ability to generate identical signatures every time doesn't mean those signatures are ever legible."
Check out Chesterton's 20 autographed baseballs. See what you think.
I think I might be writing thank-you letters to current players who take the time to spell it all out for me. Legible signatures are an endangered species.