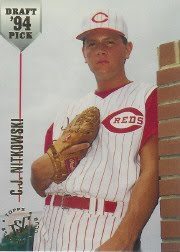 Writing my 2001 book Collecting Baseball Cards: The 21st Century Edition was fun. I still have a few copies left, if someone is looking for this out-of-print "classic."
I tried to get lots of input for kids (the intended audience). Then-current pitcher C.J. Nitkowski was one of the first to help, replying:
"The funny part is, I go back and look at the few cards I have left, and I see cards of coaches I have had when they were players. Guys I never heard of at the time.

I picture myself eight years old, flipping cards. But now, I know some of these guys. Even though I didn't know who they were at the time, it's pretty funny to me.

I miss the gum, too. That was the second best part. The first, of course, was any New York Yankee card I got in my pack."
Nitkowski has a Twitter account. His baseball gems get recapped at www.cjbaseball.com. It's obvious he loves the game. Wouldn't it be nice to think that every player, coach and broadcaster, like C.J., was a fan first?